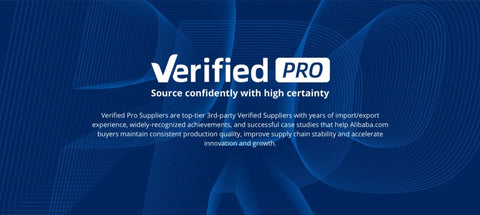 Verified Pro Suppliers are top-tier 3rd-party Verified Suppliers with years of import or export experience, widely-recognized achievements, and successful case studies that help Alibaba website buyers maintain consistent production quality, improve supply chain stability and accelerate innovation and growth.

TOPKO Product Group Ltd has been Verified Pro Supplier in Alibaba website. Sourcing from TOPKO can maintain products' reliability and performance with TOPKO's consistent production quality powered by cutting-edge techniques and standardized procedures, manage risk and enhance productivity with TOPKO's enhanced supply chain stability powered by their high level of import and export proficiency, and accelerate innovation and growth with TOPKO's years of industry experience, patents, certifications, and widely recognized industry achievements.

Compared with Verified Suppliers, TOPKO Product Group Ltd as the Verified Pro Supplier has supreme production capability and capacity, new design inspiration, reliable quality and after-sales service. TOPKO Product Group Ltd ranks as the leading suppliers in yoga and fitness industry in China, it has AAA credits , holds widely-recognized industry awards patents and certifications, and have a tremendous amount of proven track record with successful client case studies.